~ Legacy Labradors
at
BoulderCrest ~


Our GORGEOUS, VERY Classic Yellow English Labradors
~ Holly, Brody, and Elle ~


Champion Lines ~ Champion Quality
~ Family Loving Teddy Bear Temperaments ~


At Legacy Labradors we breed the very CLASSIC Yellow English Labrador Retrievers with BEAUTIFUL Blocky heads, Huge bone, Thick otter tails, and Teddy bear dispositions. They are first and foremost our ADORED pets and a HUGE part of our family. Having their puppies is like icing on the cake. We absolutely LOVE having puppies around to play with and love!

My husband always had Labrador Retrievers growing up, so it was only natural that he would want his children to also have a Lab to love. We'll it's hard to just have one, so we have SIX (Brody, Bella, Holly, Honey, Elsa and Winter!) Enough for all our kids to play with and love. We are VERY blessed to be able to home school our children, as being home with our children and pets is extremely important to us. We couldn't imagine a life without Labs!

Our Labs get only THE BEST raw diet with a quality star kibble, Taste of the Wild//Diamond Natural. They ABSOLUTELY love eating their raw! Our Labs are NEVER kenneled (except sometimes when in season) and run free around our property/home (appx 30 acres). We feel VERY strongly that kenneling a dog long term, is not in THEIR BEST interest. During the day, our puppies are also able to run and play freely.
~ ~
We offer boarding of our puppies after 8 weeks of age. Boarding includes crate and lease training, continued socialization, as well as early potty training. This works great for families that are not home all day when their puppy is still young.
​



​​​Winter x Brody Full English Litter Born Oct 2017
with mid Dec 2017 Adoptions (2 boys available)
Inquiries invited from loving forever families​
Calli said...."School isn't so bad with a pup on your lap."​​
Puppies getting prespoiled and helping kids with school and making lunch.... !!!​
THE BEST Christmas packages in the making!
~ ~ ~

​

Our dear friend Christine Gamache from NorthStar Labradors in Washington, has a Triton x Maggie litter of 5 boys/3 girls with adoptions around Dec 18.
​She currently has 4 boys and 2 girls available and is willing to hold her darlings for Christmas if needed.
If interested... please contact her directly at:
Christine Gamache
NorthStar Labradors
(360) 903-2683
email: cjoygamache@yahoo.com

Triton Puppies Maggie
~ ~ ~

​

Kids and Their Labs April 2017
​~ ~ ~​
​
Abrie and Holly
Tori and Elsa

​~~~​


AM MULTI BISS BRONZE GCH. & MULTI BISS CAN. CH. GATEWAY'S NOTHIN BUT TROUBLE
"TROUBLE"~
Big Boy at 120 lbs!! ~
Owned by Belquest Kennels
#1 Labrador Retriever in the USA in 2013
​

Sire of Anna and Holly Summer 2015 litters
Trouble wins BEST OF BREED at AKC/Eukanuba National Championship 2014
TROUBLE TAKES BEST OF BREED AT THE LARGEST LAB SPECIALTY
IN THE WORLD !!!
THE LABRADOR RETRIEVER CLUB OF THE POTOMAC - APRIL 2013!

Judge's Critique:
My Best of Breed was Am. BISS GrCh & BISS Can GrCh Gateway's Nothin But Trouble. What a joy just to stand and look at this beautiful boy from across the ring. My type of dog through and through. I can never resist a beautiful reach of neck which we seem to be losing in many of our dogs. His elegant neck flowed into well placed shoulders and continued down the level topline to his tail. He was perfectly balanced with the right length of leg and bone for me, not overdone in any way. A joy to watch moving with drive round the ring and in perfect condition on the day. A real showman and shown to perfection by his handler.



IntCh/AKC Ch pointed
(both Majors/needs one point to finish)
​Legacy's Billy the Kid at BoulderCrest
"Brody"
Therefore, we are called to strive for excellence in order
to be THE BEST testimony for the Lord.


​Best of Breed and Best of Winners
Brody winning his IABCA Best of Breed
~ International Championship ~
July 2015


Brody winning Winner's Dog
10/9/15 Lizard Butte Kennel Club
​

Brody above at 6 months old
~A BIG soft Teddy Bear~

​

Brody at a few months old
on some of his early adventures ~
​

Alex showing Brody to a Major Reserve Winners against appx 19 other Labs...
​Way to go Alex and Brody!!!


Brody gets a ride!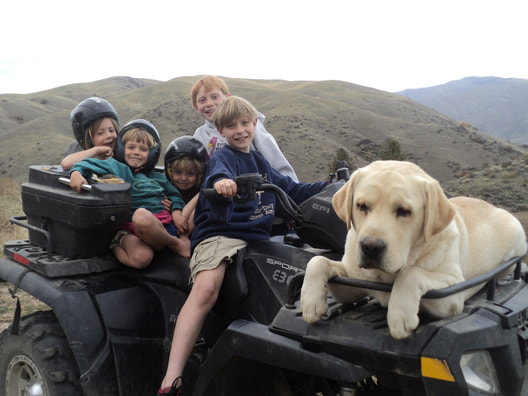 ---

Brody, Holly, Elsa, Honey and Winter on their daily 4-5 mile run! The order is usually Brody in front with Elsa either in front or a very close second, then comes Winter, Holly and pulling up the rear is our sweet Honey girl. They are in their last stretch of uphill before the get to turn around and go down......



AKC Legacy's Hollywood Be a Star
at BoulderCrest
"Holly"

Abrie With Her Girl Holly
Labradors are lousy watchdogs. They usually bark when there is a stranger about, but it is an expression of unmitigated joy at the chance to meet somebody new, not a warning. ~
Norman Strung
PennHip Hips~ L.48/R.46 # 911441 /OFA elbows ~ L/R Normal
DNA V779984/SR 745765/03
Eye Cerf ~ Normal 3/2014 ~ BAR Test Normal ~ EIC Clear
Heart Auscultation Normal ~ Full Dentition
22" ~ 87 lbs
Abrie and her girl, Holly
~ ~ ~ ~ ~ ~ ~ ~ ~ ~

~ Holly is Classically Beautiful in every color
and in every way ~



AKC CH Legacy's Elsa Trouble Me Not From BoulderCrest
​"Elsa"
Shown by Susie and Jorge Olivera AKC registered handlers
Tori and her sweet Elsa girl
​

PennHip done of 3/10/16 and 2/24/17 Score is DI= 0.36 # SR89620801
​EIC Clear ~ Full dentition ~ Heart Auscultation Test Normal ~ BAR Test Normal ~ OFA Elbows pending ~ Eye Cerf pending
22"- 82 lbs



​Elsa Multiply Best of Breed Wins
and
Group 3rd/Major Win/Best of Opposite
May/June 2017 ~ Large Lab Entry with appx 30 and 40+ Labs at Shows!



AKC CH ​Legacy's Honey Ain't No Trouble at BoulderCrest
"Honey"​
​Caleb FINALLY got to keep a puppy of his own.... sweet, sweet Honey
and
she is ONE lucky girl... as she gets to sleep with Caleb in his trundle bed!
PennHip 3/9/16 left 0.40/right 0.38 or 70th percentile # SR89620802
EIC Clear ~ Full dentition ~ Heart Auscultation Normal ~ BAR Test Normal ~ OFA Elbow pending ~ Eye Cerf pending
23"- 87 lbs

​Honey took two Major wins and a
​Best of Breed over Specials at a large supported entry
Thank you to our wonderful handlers... Jorge and Susie Olivera.
Our New AKC Champion "Honey"



​​Legacy's Winter Wonderland at BoulderCrest
~ Winter ~​
Winter is our Kaeden's adorable girl. Winter has THE BEST temperament and is a joy to have. She LOVES to carry things in her mouth! I call her a termite, as she LOVES to chew... anything and everything!
​She has THE MOST beautiful head and expression!
Kaeden and Winter
PennHip 3/9/16 80th percentile right 0.37/left pending # SR87404702
​DNA V819865/SR87404702
EIC Clear ~ Heart Auscultation Normal ~ BAR Test Normal ~ OFA Elbow pending ~ Eye Cerf pending ~ Full dentition
20 1/2" ~ 70 lbs


​The Kids and Labs LOVE the trampoline!!!





BoulderCrest's Anna of Rolling Hills
~ Anna ~
---
BoulderCrest's Sophie of Rolling Hills
~ Sophie ~​
~PennHip Hips~ L.36/R.25 (80th percentile) # 911443 / OFA elbows ~ L/R Normal
Eye Cerf Normal July 2014 ~ EIC Clear ~ BAR Test Normal
Heart Auscultation Normal ~ Full Dentition ~ 22" 85 lbs
Sophie is a full sister to Elle and is love and adored by my mom
​
​

Elle, Holly and Brody as puppies ~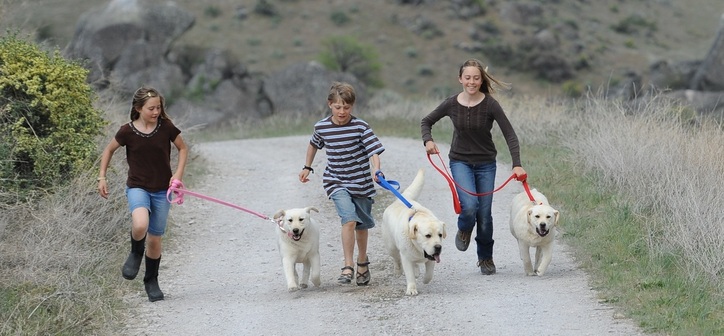 ---



Race 2 the Summit
Horseshoe Bend, Idaho
1/2 marathon -- September 2013
finished in 2:11:34


I have no greater joy than to hear
that my children are walking
in the truth
3 John 1:4
---





~ Some of our STUNNING past puppies ~


~ Caleb and Honey Girl ~



We strive to find THE BEST homes
for our ADORED puppies!



~ The VIP'S of BoulderCrest ~
(Very Important Puppies)
Excellence does not necessarily mean the absence of mistakes,
but it does mean the presence of faith and determination.
To be excellent at whatever God has called us to do.

Caleb (age 6) talking about his favorite puppy.... "How would I live without her?"
THE RULE OF SEVENS

Pat Hastings, AKC judge and author of The Puppy Puzzle offers these hints for socializing very young puppies.
By the time a puppy is 7 weeks old it should have been exposed to the following:

Been on 7 different surfaces, such as: carpet, concrete, wood, staw, vinyl, grass, dirt, gravel, wood chips, newspaper, snow, etc.

Played with 7 different types of objects, such as: big balls, small balls, soft fabric toys, fuzzy balls, squeaky toys, metal items, wooden items, paper/cardboard items, milk/soda jugs, etc.

Been in 7 different locations, including: front yard, backyard, basement, kitchen, car, garage, laundry room, bathroom, bathtub, 4 wheeler, crate, kennel, etc.

Been exposed to 7 challenges, such as: climbed a box, climbed off a box, gone through a tunnel, climbed up steps, climbed down steps, climbed over obstacles, played hide and seek, gone in and out of a doorway with a step, walking up/down a hill, etc.

Eaten from 7 different containers: metal, plastic, cardboard, paper, china, pie plate, frying pan, etc.

Eaten in 7 different locations: crate, yard, kitchen, basement, laundry room, bedroom, x-pen, etc.

Met and played with 7 new people: including children and the elderly.

We absolutely ADORE our puppies
as they are a HUGE part of our family!!!
Happiness is a warm puppy ~
Charles M. Schulz
Every puppy should have a boy ~
Erma Bombeck
The dog was created specially for children.
He is the god of frolic ~
Henry Ward Beecher


Our Labs enjoying THE BEST life
~at BoulderCrest Ranch ~
A dogs life! No cages or kennels here ~
~ Life is Good ~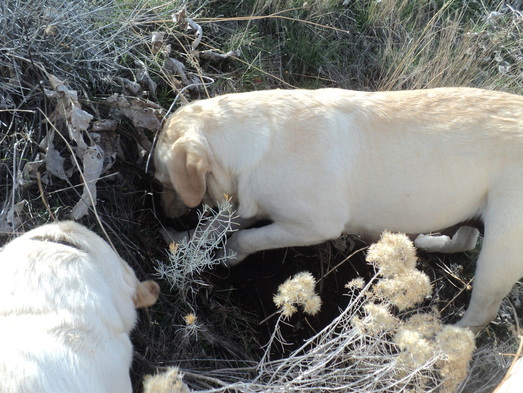 ---


Can you find the puppy in the picture?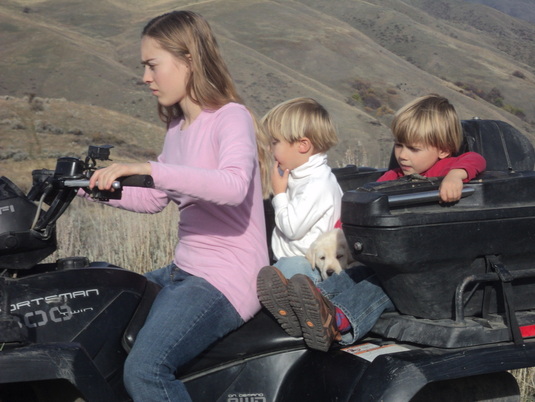 ---
Abrie takes Benny, Boo (6 weeks) and her younger brothers,
Caleb and Kaeden for a ride






We health test with OFA, PennHip, Eye Cerf, EIC (Excerise Induced Collapse),
and Heart Auscultation Testing.




The true goal of excellence is to do THE BEST you can
with what you have at every moment
~
Striving for THE BEST.... BoulderCrest!


Copyright protected