Nothing Better than Watermelon on a Hot Summer Day !!




​May 28, 2018
Tori's little Puff girl "Paris" LOVES to retrieve! She was thought by Tori's Lab Elsa. Elsa is supervising and mom Clea is on the beach cheering her on!


​March 14-April 1, 2018

Florida Trip.... More to Come!


​March 2018
Silly Snowy Girl
​What Snowy came home with from one of her adventures! We were in Florida and had a friend watching the place, when I got this pic. Haynes said..,
"Did you leave instructions for Snowy to gather firewoood?"
​
​Jan 15, 2018
Abrie Wins Regionals!!!

We will be heading to Orlando, Florida in March for Abrie to compete at MTNA Nationals in Senior Piano! She played on a VERY high end Italian piano called a Fazioli. Well... we just had the most striking Powderpuff boy born on Jan 2nd, so we just had to call him Fazioli! He is black and white just like the piano! The competiton is being held at one of the Disneyworld resorts, so of course... we will be going to Disneyworld and the kids are SO excited! It has been about 12 years since we went to Disneyland, so it will be a first for Calli, Caleb and Kaeden. Alex was SO young, he was scared of everything. Now... he jumps off mountains (paragliding)!! It will be a long drive... 2600 miles one way, but we have decided to drive. We are very lucky to have a dear friend come and watch our place and all our pets. I wish we could take them all, as we will miss them terribly.
Please pray for our safe journey.


​Halloween Fun 2017

The kids rode their trusty steeds on a ghosty of a good time trick or treating. They were all Wizard of Oz characters. Caleb had not ridden Mini in a few months and she can be kinda spooky. He REALLY was the cowardly lion at the beginning of the ride... but at the end he gained his courage and LOTS of candy! Alex had fun putting the video together... enjoy!


​​Fall/Winter 2017
​
I saw Calli put this picture on her Instagram page... and she said
​"School isn't so bad with a pup on your lap."
There are going to be some VERY excited families this Christmas, as puppies will be ready for their new families mid Dec.
​
Pictured at one week old
​

​Summer 2017

We had a really busy summer. It started with an endurance ride at City of Rocks. Caleb (age 9) rode his first LD 25 miles on his pony Mini and Calli got to ride on her new mare Dream. Abrie, Tori and Alex also rode their horses on 25's. Their cousins Dani and Andrew also came for the ride. It is gorgeous country.

We then had a week long dog show in Filer and Blackfoot. Ivy got her Grand Championship, Paris got two Majors and Honey, Brody and Elsa all got Best of Breed Wins. Honey finished her AKC Championship and Brody only needs one point to finish. Brody, Elsa and Honey continued on a two week show circuit with our handlers.

We were home about a week and then off to Scottsdale for five weeks, as Tori and Calli got accepted to Master Ballet Academy for a ballet summer intensive. It was HOT... but we had a lot of fun swimming in the pool almost every day. The kids got to visit their grandparents and relatives in AZ, so that was a lot of fun for them. Alex got his first taste of flying (Paramotoring) and is now obsessed with flying. He is taking paragliding lessons at a recently opened flight park right here is Horseshoe Bend.



Our new bird Paco.... he LOVES to dance!

~
​

Honey... Our New Champion!
​

Ivy... Our New
Grand Champion!
​

Alex's first tandem Paragliding flight
and
right here in Horseshoe Bend at the new
HSB Flight Park.
​
Horseshoe Bend Flight Park Promo Video
​

Alex's New Passion... FLYING!!!

...and here he is flying solo!
Alex in Training
​Idaho Statesman Article Sept 25, 2017
​Horseshoe Bend Flight Park caters to paragliding, above, hang gliding and the more extreme speed flying. Provided by Horseshoe Bend Flight Park OUTDOORS Ever dream of flying? These guys did too, and they made it happen in Horseshoe Bend BY JOE CARBERRY Special to the Idaho Statesman

A group of men, all wearing backpacks, scaled the steep foothills surrounding Horseshoe Bend. Below them, the Payette River snaked its way south as the wind blew ever-so-lightly in their faces. It was a beautiful summer afternoon. In the distance, the small group, many of whom had helmets dangling from their packs, spotted two men approaching. Scott Edwards, a longtime speed-flying pilot from Boise stepped forward to greet the pair while the rest of his group kept hiking. "What are you guys doing," one of the men, Steve Loomis, asked."We're just hiking up this mountain to fly off the top," Edwards said, explaining the contents of his backpack. "Well, you're hiking on my property," Loomis said. But Loomis, a former smoke jumper, was intrigued. So he allowed the procession to continue up the mountain. He liked what he saw as the group of pilots removed small parachutes or "wings" from their packs, ran off a ridgeline and began a high-speed flight to the valley floor. "After he watched us, he asked if we wanted a ride to the top," Edwards said. "So he shuttled us up." Thus began a friendship that was the building block for the Horseshoe Bend Flight Park, a 910-acre venture in Horseshoe Bend off Idaho 55 north of Boise that is essentially a club for flight sports in the Boise area. The park will offer memberships that will include shuttles for experienced hang gliders, paragliders and speed-flyers. The new business offers tandem flight, lessons, camping and other amenities. "This has been a dream of mine for a long time," Edwards said. "My wife has been listening to me talk forever about wanting to buy property with a mountain to teach people to fly." It turns out Edwards didn't have to buy a mountain. He met his business partner, Justin Boer, four years ago while flying in Hailey. They formed a bond after Boer crashed into a pond and Edwards was the first on the scene. "I pulled him out of the water and got him onto life flight," Edwards said. "But Justin kept on pursuing his dream of flying." Boer, originally from Bend, Ore., was partially paralyzed from the crash, but it didn't stop him. He became a representative for an air sports company and moved to Hawaii to fly and continue therapy. He also started a licensed school, Freeboern Air Sports, to teach people to paraglide and use speed wings. That's how the partnership started. Boer brought the licensed school to the table. Edwards, who grew up on a farm near Pocatello and learned to fly after meeting a skydiver for a college report at Boise State University, had the inside track with Idaho landowners. "We're bringing a new site to the community," Edwards said. "We can fly 270 degrees off the mountain on both sides."

Owners of the Horseshoe Bend Flight Park say the area's light winds and lack of heavily-wooded areas make it ideal for hang gliding and paragliding.

It's something the Boise flight community has needed since the regulations changed at the main meeting spot near the old Ben's Crow Inn in East Boise. That site had been a free-fly zone for hang gliders, paragliders and speed wings since 1957, Edwards said. It was a place where the flight community could train, gather and share ideas. But that all changed a few years ago. "The lady who owned the property (and let us fly) sold it to the city with one stipulation," Edwards said. "'You've got to let these guys still fly out here.' But then the city sold it to the Fish and Game, which shut it down because they were observing animals. It took three years, but we finally got it opened back up but it's only open for three months in the summer." And while the flight community's gathering spots have shifted recently, so has the sport. Hang gliding is no longer en vogue, replaced by paragliding and speed flying. People still hang glide, Edwards said, and they're welcome at the Horseshoe Bend park, but people mostly paraglide or speed fly now and the flight park will focus on those two disciplines. And it's safer than you might think. People start small and work their way up, some choosing to fly in light winds or with conservative parachute setups. Speed flying is the most radical of the two parachute sports, but as Edwards explains, both can be done conservatively.

The flight park will have a soft opening this fall and a grand opening in spring.

Edwards and Boer emphasize the safety and fun in the sport and the diversity of participants' backgrounds. "I've mentored Olympians, Air Force pilots, Navy Seals [and] kayakers. We work with disabled people or amputees. So many different types of people get involved in the sport," Edwards said. And Horseshoe Bend seems like an ideal place to practice with its light winds and lack of heavy timber. Edwards and Boer wanted to buy a piece of property in the area, then lease, but nothing was working out. But their friend Loomis kept steering them toward a piece of property he owned on the other side of the river. "Steve had been telling us about the other property," Boer said. "We looked on Google Earth and it didn't look that appealing. It was next to the transfer station. But as soon as the first site fell through we looked at the other one and it was way better. It was out of the way with a nice landing zone." So the duo leased the place from Loomis on the west side of Idaho 55 up the Old Emmett Highway just out of Horseshoe Bend and went to work building the site and raising money. And they noticed how much the community was behind them. "We had a public hearing in August and the whole courtroom was full of people," Boer said. "We had 12 people testify that they were for the flight park. It was pretty heart-warming." The flight park will have a soft opening this fall. Next spring, it'll host a grand opening. "Horseshoe Bend is near a cool city and it's a passageway to all this adventure," Boer said. "Our whole goal is to grow the sport of flying and this is a great spot to do it."


​​Spring 2017

Tori doing school with some of her friends. She has to watch her books, or her homework
​will REALLY get eaten!

​April 1, 2017
Owyhee Tough Sucker Endurance Ride

It was the first endurance ride of the season for most of the riders, and many came with horses who were not dead fit and were still winter-hairy. 20 started the 50-miler, 19 started the 25-miler, and they all finished! No lamenesses, no metabolic issues - good, smart endurance riding out here in the Owyhee desert.

The April Fools ride also saw the return of the Church kids after a several-year hiatus from riding. Former Junior Abrie was now the sponsor for 3 of her Junior siblings, and the youngest one on the smallest pony won the 25-mile ride, pulsing down first in 3:10. Best Condition went to Simone Mauhl and Dudley's friend Boogey.

The weather was PERFECT, which we all deserved, since we all suffered through a terrible hurricane/typhoon/rain/sleet/snow/windstorm on Thursday and Friday (and Sunday was not particularly lovely with the rejuvenated cold wind). Saturday was 60* and sunny, with only the slightest breeze. Trails were in perfect condition, with lots of grass on trail and flowers just beginning to emerge.

The Pickett Crick Ramblers played some fine music afterwards, both Friday and Saturday nights. Abrie Church, who masterly plays both the piano and fiddle, and who had never touched a mandolin in her life, borrowed a mandolin and jumped right in and started playing with us. Sure, mandolin and fiddle are tuned to the same strings, but - still! We were all astonished and delighted she made us sound so good! A younger brother banged on the drums, then dad stepped in and really meshed us all together. We were rather impressed with ourselves… we sound a lot better than we did 2 years ago!

Taken from: Merrie's Travels on Endurance.Net
We all had a great time on our first endurance ride of the season at the Tough Sucker Ride in Oreana, Idaho. Abrie is now 18, so she sponsored Alex, Tori and Calli on the ride. Calli came in 1st on her pony Mini! The kids made a really nice bridge to cross the water where we were camping. Abrie played an April Fools joke on her sisters and brother and said her horse was lame and he couldn't ride. That meant NO ONE was riding, since she was their sponsor. Everyone was SO upset... then "April Fools!"


​March 2017
Antler Shed Hunting

Abrie and Alex decided to go antler shed hunting and they found 6 VERY NICE antlers in two days! It was their first time! Maybe it was beginners luck. We want to train the Labs to help us look. They dogs LOVE to chew on them!


​Happy St. Patrick's Day 2017!!!​

Abrie decided to dress her girl in green, so she wouldn't get pinched.

​Feb 26-Mar 4
Off to NYC and Juilliard

Some VERY exciting news for the Church family!! Abrie got accepted to live audition at Juilliard! Her audition date is March 1st at 10 am. This is Caleb's birthday (he will be turning 9) and he sure wishes he could come. I wish everyone could come, but so much to keep going at home. My mom, Abrie and I are going. My mom use to live in NY, so she is excited to go back and show us a few places. I promised the other kids that if Abrie gets in we will drive the motorhome to NYC this fall and spend a few weeks seeing where Abrie will be living and the sights. I know it will be a HUGE change from our quiet (but super busy) life in Idaho. We wish her the VERY best for an audition. If she gets to stay home an extra year we would love that also. It is in God's hands.
....at Lincoln Center and going to Little Italy for some yummy Italian food and real Italian Cannolis, Staten Island Ferry, Juilliard, Grand Central Station and the Broadway musical Phantom of the Opera. We saw the Statue of Liberty, Empire State Building, Times Square, Trump Tower, shops on 5th Ave.... plus lots of others exciting places. Everyone was extremely friendly and we had the most amazing trip!!!!

​

​Our other favorite pictures
​from 2016
Our BEAUTIFUL girls (Elsa, Honey, Winter and Holly) waking up in the morning
from their trundle bed and hopefully a good nights sleep.
​
The kids have teams and put on cooking contests.
I LOVE it.... as I get to be the judge!

​Ivy says... "I'm smiling... honest!"
... and sweet girl is.
Fall 2016
Idaho Mountain Orienteering
Looking for markers using a compass
​
​
Tori with her three little babies... Fern, Macy and Paris.


Tori and Calli riding Calli's new mare Dream.



Who said Little Dogs don't like to have fun in the mud?!? This is how Ella would come in from playing outside!
She said..."I don't want to be a show dog... we'll at least not today."

A GORGEOUS litter of English Puppies from my dear friend in Oregon. We kept a number of them to add to our breeding program...they are SO nice!


​ ~ Merry Christmas 2016
​and Nutcracker ~
We had a wonderful Christmas suprise... as Honey had her puppies! She has 5 boy and 3 girls and they super big and chubby and doing great! Abrie made THE MOST amazing home made healthy Marzipan as a suprise for everyone. It had NO sugar and it tasted amazing!!! She makes the most wonderful tasting, but healthy food. We always tell her she needs to open a health food restaurant. Tori rode Lilly to grandma's house (helped with the Marzipan) in a snowstorm on Christmas Eve to pick up Abrie. She ponies her horse and they both rode home.
They kids had a blast performing in the Nutcracker this Christmas. Tori was in Waltz of the Flowers and Waltz of the SnowFlakes. Calli was a Party Child and in the Chinese Tea dance. Unfortunetly... Calli changed SO quickly back stage, I don't have any pics of her. The two little boys, Caleb and Kaeden were both mice and trumpeteers. The is a lot of fun. They were all REALLY sad when it was over. They had four performances in three days.


​Nov 27-28, 2016
Time to Get a Christmas Tree....
and
....Our First Snow!!!

We have a family tradition of going to find and cut our Christmas tree. The Labs LOVE this tradition! We usually have a couple puppies who get to come also... this year is was Parker and Duke. The kids have been waiting and waiting, checking the weather daily to see when it will snow. Well... the day after the Thanksgiving holiday week it snows! It is Monday and should be back to school and it snows!! Luckily... for them they are homeschooled and mom is sometimes a push over. They spend the day in the snow. Whomever said little dogs and Crested don't like snow forgot to tell our dogs.


​​Nov 24, 2016
Happy Thanksgiving...
​
from our four (some two) legged furry, feathery, scaly, family... Holly, Brody, Bella, Elsa, Winter, Honey, Bandit, Winston, Clea, Lola, Ivy, Belle, Sophie, Bernie, Oaty, Ollie, Tilly, Mini, Lilly, Copper, Lucy, Dream, and a couple of THE CUTEST little puppies....Finley, Vinnie, Fern, Macy, Paris, Max's little brother, and Little Boy to yours!!!
WOW... we have a BIG family to be VERY thankful for!
We not only made our Thanksgiving... but a YUMMY Thanksgiving "Feast" (as Caleb calls it) for everyone!

Update 12/6....
I gave the dogs a wormer from the vet (IntersepterPlus) on Thanksgving evening and Clea had a BAD reaction and we almost lost her! It was SO scary!! She was not well for a week, could hardly walk and was on IV"s for two days! This is why I DO NOT like giving the dogs anything unnatural. I will be looking into a natural alternative for worming. We are SO thankful our Clea is getting better.
~ Patiently waiting for "The Feast"
​and before and after photos ~​

Bottom ~
Our two partnership dogs Martha and Porche whom we got the pleasure to watch while their family went out of town for Thanksgiving. They are BEST buddies for sure and SO sweet and SO beautiful!
Top ~ Caleb and his Honey girl just couldn't make it to their trundle bed. We are SUPER excited... as we think Honey is pregnant! She is getting a little rounder in the middle and hopefully it isn't all the good food. This will be her 1st litter. She is due around Dec 28th. We bred her to Am GrCh Noteworthy Music Man "Canon". Canon is the sire of our Brody, Holly and Anna.
​Bottom ~ Canon has one of THE BIGGEST, blockiest heads I have ever seen on a Lab! Canon is out of the #1 Lab in 2010 and Honey is out of the #1 Lab in 2013. We can't wait for this litter... as we think they are going to be out of this world for big headed blockiness...which we LOVE!
~ Canon ~
Sire of litter with Honey
​

​Nov 19, 2016
Abrie Wins State... VERY exciting!!
We will be off to Regionals mid January in Washington. She performed a Liszt, Beethoven and Ravel and played them all amazingly beautiful! We are SO proud on Abrie and all her hard work and dedication. She will be auditioning this fall to Juillard, Curtis and Peabody. Whatever happens... we know God has a wonderful plan for her!

​Sept 5, 2016
A Labor Day Adventure
The kids have been telling me about "Their Secret Spot" for awhile and I got to go with them and check it out! It is VERY neat! It is about 5 miles from our house. You go on the gravel road for a few miles and then on a little dirt trail. It is in the middle of nowhere.... there is a corral, a HUGE picnic table, a water trough with gold fish (Calli, Caleb and Kaeden had to go in and try to catch the fish) and wild plums, apples, pears and blackberries. Tori made a jump in the corral and jumped Lilly. Kaeden (age 6) rode home all by himself on Lucy and can't stop asking about riding again. Abrie made homemade potato salad and THE BEST muffins with no sugar. They were delicious! The kids said there is an old cabin a little ways away, but we did not have time to check it out this time.


​Summer 2016
Summer Private Ballet Lessons
Tori and Calli take private ballet lessons with Lana Kroth and Phylis Rothwell-Afranti. They are both GREAT teachers and they have learned SO much. This is a short clip of Tori working on Paquita Variation. She has only been doing ballet for a year and a half. This is her second day working on this variation.

​
​4th of July, 2016
AT Lake Cascade
We had a great time at the lake (dogs included). Alex had SO much fun on the waverunner...
​that he ran out of gas and had to be towed in! We stopped and spent most of the day exploring at a very private beach. The kids had swim races with the Cresteds and Finley and Ivy would go in the water all by their selves!
Our GORGEOUS English girls... Winter, Elsa, Honey and Holly

​June 15th/29th
Your Invited..... San Jose, California and Portland, Oregon
​
Abrie was accepted to participate in the San Jose International Piano Comeption and it is open to the public. She will also be putting on a concert in Portland, Oregon on June 25. Hope to see you there!
​
June 15, 17 Possible 18 & 19 (depending on placings) in San Jose, California
​ and
June 25 in Portland, Oregon

​April 2016
Going For a Spring Hike and Ride

We took a fun spring hike with the dogs and the older kids rode their horses. The BIG dogs got to help Grandma.... when the hill got steep.
It is SO beautiful in the hills in the spring.... It reminds me of the Sound of Music. If only it stayed green all summer.

​April 1-6, 2016
Abrie's Wins 3rd Place at MTNA Piano Nationals in San Antonio, Texas!!!! The whole family went and the kids got to ride on an airplane for the 1st time... which was quite exciting for them! We stayed at the Grand Hyatt (where the competition was held) and the kids made up the cutest song about..."Poor dad, how were we to know that water cost a fortune ($5 each)???"..... We visited the Almo, The River Walk and the beach. Both Abrie's piano teachers came which was very nice and all her grandparents.

​
​March 26 & 27
Celebrating Easter on The Ski Hill at Tamarack Resort

The kids had a lot of fun skiing and hunting for Easter eggs. The eggs were REAL hard boiled hand painted eggs... which I love. The boys also had a tasty snack which they loved! They had a Easter egg hunt for the older kids and offered free season passes spread out on the mountain. It was a wonderful way to celebrate Jesus and the wonderful sacrifice that he did for us.


​March 1 & 2, 2016
Abrie gets a VERY well deserved new 1909 full restored Steinway piano!!!
​
It was LONG overdue..... as Abrie has advanced to a level that our pianos were not.
My mom, Kaeden and Abrie (of course) went to Portland on a two day piano buying excursion.
She tried every top end piano (mostly european), from Steinway, Bosendorfer, Fazioli, Estonia, Mason & Hamlin,Schimmel and Yamaha. She even played and considered a Bluthner (German import) piano owned by Bill Gates. ​They said he traded it in because it was too small. She ended up falling in love
with a 1909 model o Steinway from Classic Pianos in Portland. I would highly recommend them to anyone who is in the market for a piano. The sell/ship nationwide and even overseas. They have an amazing collection from beginner pianos to the highest concert grand level and everything in between. They are also VERY knowledgeable and extremely pleasant to work with. They had our piano delivered to our home (actually my mom's home,as our house is too small for a grand piano) in two days! Abrie absolutely LOVES it!
​ The only problem is she is always playing and we miss having her at home.
Abrie's LOVES playing her new piano!!!


​Jan 17, 2016
Abrie wins MTNA Regional Piano Competition!!!!
Abrie is the 1st person in over 20-25 years to win Senior Piano NW MTNA Regionals from Idaho!!! It was SO exciting!!! There was LOTS of crying and LOTS of hugging. The NW regionals is VERY competitive, as Oregon and Washington (as well as the others) have amazing talent. There were 27 competing in Washington for state. We will be heading to Nationals in San Antonio, Texas on April 2, 2016. She will be competing against 6 other regional winners for National Champion. Abrie's first piano teach Mrs. Wilcher came with us, as well as my mom and 16 dogs! One of our current teacher David Tacher also came to hear the performance. Our suburban was packed! It is always crazy busy, but we have a lot of fun.
State Champions (L to R) Oregon, Montana, Washington, Idaho, Alaska and Wyoming
All did an amazing job and are wonderful accomplished pianists!
Mrs. Wilcher (Abrie's first piano teacher), Grandma, Mom, Dad and David Tacher (Abrie's current teacher) Her other teacher Dr. Irene Peery- Fox did not attend.
​
Abrie's first piece Witches' Dance by Edward MacDowell
​
Abrie plays Chopin Ballade No. 1 in G Minor, Op. 23
​

Domenico Scarlatti Sonata in D Minor, K. 141, L.422


Chopin "Black Key" Etude in G-flat Major, Op. 10 No. 5
ALL (but one note) are played on the black keys
​

Abrie's final piece.... Toccata, Op. 11 by Sergei Prokofiev
​
Jan 2016
Abrie getting ready for MTNA NW (Idaho, Oregon, Washington, Wyoming, Montana and Alaska) Division Regional Piano Competiiton
in Missoula, Montana Jan 17, 2016
Abrie is playing 5 compositions by Chopin, McDowell, Scarlatti and Prokofiev. She has worked VERY hard on these pieces and is an amazing artist! We wish her THE BEST of luck!


~ Christmas 2015 ~
We wish all of our dear, dear family and friends a VERY Merry Christmas! We will be staying home for the holidays which will be a wonderful treat. We are getting LOTS of snow... so the kids are super excited and having LOTS of fun! The Labs and Winston (our sport model Crested as he is called) LOVES to play in the snow. Alex, Caleb and Kaeden made a snow house and the Labs thought it was pretty neat.
We had to take all the candy canes off the Christmas tree after realizing that Holly and Winston were eating them all! Winston kept opening everyone's presents (beautiful painted rocks from Grandma)... so we had to put them away also. He is going to be SO happy to open his present soon (a yummy bully stick.) Warm hugs ~
...going for our daily run and fun.... How could we miss on Christmas Day with LOTS of snow.... they LOVE it!
Our gorgeous, very sweet Trouble girls... Honey and Elsa enjoying their first white Christmas





Nov 25th- 30th, 2015
Thanksgiving Holiday in Arizona

We spent the holiday is sunny, warm Arizona visiting Robert's family. We had a good time... I think the dogs enjoyed the warm weather as much as we did. We took cousin Dani and Andrew, so had 8 kids and 13 dogs (8 puppies) in the motor home. Everyone was very good... only one puppy accident! They kids enjoyed playing a Monopoly National Parks game on the way home. Some highlights included visiting the Grand Canyon (found a friendly wild pig), Tonto National Monument Cliff Dwelling, hunting and finding some VERY old Salado (Anazazi) pottery (900-1150 ad) in nearby hills while 4 wheeler riding and playing with cousins Adam and Kevin.
We would LOVE to spend a week here.... maybe next year and we will definitely plan a hike to the bottom.
Kaeden (age 5) did a 13 mile hike to Stack Rock a few months ago... so I think he will do just fine.
Indian Desert View Watchtower at the Grand Canyon
is located at the south rim. It was SUPER cool....designed in 1932 by architect Mary Colter (who also designed many other buildings at the Grand Canyon) had Hopi painted murals of prehistoric pictographs & petroglyphs.



Nov 14, 2015
Tori and Calli ~ Idaho Regional Ballet
Photo Shoot for 2016/2017 Calender
Both girls work VERY hard and are doing GREAT in ballet. They have aspirations
to dance professionally with a company some day.


Idaho Regional Ballet Video
"The Training of a Dancer"
Tori dances with the Junior Company Idaho Regional Ballet


November 21, 2015

Abrie's Wins the MTNA Idaho State Piano Competition!!!
and Sophie has her puppies!
We had a VERY exciting, crazy day today! Abrie competes at the MTNA National Piano Competition and Wins for Idaho. She plays Chopin, Prokofiev, Scarlatti and McDowell beautifully and we are SO proud of her and all her hard work. We will be heading to Missoula for Regionals this January. She will be competing against Oregon, Washington, Alaska, Montana and Wyoming to go to Nationals.

My mom's girl Sophie was pregnant and due any day... so I felt it was best to take her in the back of our suburban to town. Well.... 20 mins into our drive home, Sophie goes into labor. She has 5 puppies in the car on the way home with my mom was the midwife. She ended up having 12 puppies... 7 boys and 5 girls! All are doing great!
I'm sure Sophie was happy to get home and finishing birthing in her nice soft bed...
by the warm fireplace.

Oct 31, 2015
Happy Halloween

Kids had fun riding their horses trick or treating. Abrie was a Spanish Senorita on her Spanish steed Copper, Tori was Dorothy, Alex a Roman soilder on his Black steed Lucy, Calli was Cleopatra, Caleb a jail bird (always wanting to steal candy) and Kaeden a wise man. They went to a house that did not have a trick or treater for 23 years!!! They were SO happy to see them, but didn't have any candy... so gave the kids LOTS of coins (about $25). We also go to a house where it is the lady's birthday... so we sing "Happy Birthday" to her. Also along the way is a neat old wooden train.


Some of our Other Favorite Pictures
from 2015
After a 10 mile 4 wheeler ride and a swim in the pond.
Can you believe these are our Show Dog?!?.... Crazy!!!
Gorgeous Anna x Trouble puppy
"Lilly"


Oaty's new friend Ollie


Alex is a GREAT bread maker....
he made this delicious loaf with NO recipe!



How the little dogs go for a bike ride... and sometimes 5+ miles ~


One of this years highlights was that we got to foster Beautiful Indy girl....
She is our Holly and Anna's mom and Honey and Elsa's Grandma
and has the most wonderful temperament
~




We notice that Holly always finds the softest place in the house ~
I walked in the room and this is what I saw....Brody, Holly and her two Trouble girls Elsa and Honey looking at me. SO sweet they all are!






Sept 10-13, 2015 Salt Lake City Dog Shows

We had a good show... Ivy west Best of Breed 3 out of 4 days and Henri went Best of Breed 1 day. There was a small turn out for Cresteds, but A LOT of #1 dogs (per breed) in the US. We were waiting to go in the ring and I saw a nice looking Pomeranian and thought "That is a nice looking Pom", well..turns out he is #1 Dog is the US (all other breeds included!!!) It was HOT and our generator was on the blink... so the kids keep cool in the stream they found next to the fairgrounds. They caught fish in their nets and found a pigeon.



Aug 16 & 17, 2015 Sun Valley/Red Fish Lake

We had a great time in Sun Valley.... always A LOT going on with LOTS of kids and dog! We first went to a orchestra concert at the Sun Valley Pavilion and the best part was that you could take your dogs! It was nice to stretch our legs and hike up the ski hill. Abrie's played beautiful at her concert....it was a real treat! We then headed to Red Fish Lake for some R & R. The kids/dogs had fun on the paddle boats and canoes.



Sun Valley News Release ~ Upcoming Performance
August 16, 2015


Virtuoso Fifteen Year Old Prize Winning
Piano Student "In Recital" August 16th
At St. Thomas Episcopal Church

Abriana Elise Church, winner of four piano competitions thus far in 2015, and winner of competitions in 2011 and 2013, will perform a stunning repertoire of piano solos at St. Thomas Episcopal Church on Sunday, August 16th, at 5:30 PM.

Abrie has been studying piano with David Tacher, renowned pianist, organist and harpsichordist, who also has performed recitals in the Wood River Valley, and frequently is substitute organist at St. Thomas Episcopal Church. Abrie has also began studying this past year with Dr. Irene Peery-Fox, professor at BYU, as well continuing her studies with David Tacher.
Multi-talented Abriana also plays violin with the Boise Philharmonic Youth Orchestra.

At age 10, Abriana and her younger brother and sister were going to quit music lessons because of financial need. However, they chose instead to start selling baked goods, cookie mix and greeting cards "door to door" to raise money for their music lessons. They did this for five years, and then started a new business breeding and showing their dogs. Abrie and her brother and sister each play two instruments. You can learn more about the family at www.bouldercrestranch.com.

Abrie's recent piano achievements include:

* 2015 Winner of Meridian Symphony Young Artist Series, Senior Division
* 2015 BPYO Concerto Winner
* 2015 Musicians West 2nd Place in Advanced 2
* 2015 Boise Tuesday Musical Highest Award Scholarship
* 2011 and 2013 First Place in MTNA Idaho State Piano Competition (Junior)
* 2011 and 2013 Honorable Mention for Regional MTNA Piano Competition
* 2013 First Place Sonatina/Sonata Festival Level 15
Her future goal is to be accepted into a TOP music conservatory for college, and to become a concert pianist and/or college professor of music.


At this concert, Abrie will be performing works by Chopin, Mozart, Scarlatti, MacDowell and Prokofiev.

Abrie thanks God for being SO BLESSED (in her words!) with a great family, great teachers, and the ability to participate in the enjoyment of music.

The public is invited to attend Abrie's recital, free of charge, and enjoy music with her. Donations will be accepted at the door for the Barry Keller Fund, which has for many years brought these outstanding musical




July 29 - Aug 9, 2015
Cheyenne
We had another REALLY fun trip to Cheyenne. The kids always LOVE playing with their cousins Shane, Breanna and Alesha. This time my sister Heidi and her two kids, Dani and Andrew came. They all had a good time riding horses, playing on the trampoline, playing cards in the motor home with their chickens and playing red-rover. Breanna and Alesha have two of our Labs Elsie and Annie...both girls are super sweet. Whenever Elsie has a chance, she leaves with their little Chihuahua Sambo and the two head to the hills to go hunting together. It is really the cutest thing ever.





July 7, 2015
Clea's 6th Birthday
Our sweet little Clea girl is 6 years old already! Tori just had to buy her something yummy to celebrate... a "Chicken Breast Cake." She sure did enjoy! We made her share with her daughters Ivy, Lola and also Uncle Bandit.





July 2-5, 2015
International Dog Show Trip to Seattle, Washington
and
4th of July
We first went to Portland, Oregon to bring a puppy to her new family. On the way, we saw a BIG fire by the Columbia Gorge River. Then we stopped in Vancover, Wa to visit my Uncle Richard and Aunt Stella. It was great seeing them after so many years. We then headed to the beach and then off to the International Dog Show in Washington. It was a great show and we now has International Champions. They judge via the European standard, which is judging against the standard NOT against other dogs. It was a neat experience and we meet a lot of nice people. We went to Seattle to watch the fireworks.... What a show!!! It was quite a busy motor home with all the Cresteds (Clea, Ivy, Lola, Henri and Bandit), three Lab puppies (until one left), Brody and pregnant Holly. My mom also came, so her poodle Bentley was also with us. We also had puppies on the trip, as Holly had three girls. Unfortunately, one was still born, so she has two VERY healthy and fat little girls. This is Holly's first litter with Trouble (#1 Lab 2013.) Caleb is VERY excited, as he is going to keep one of the little girls for his very own.
Elsie and Lexi enjoying a day at the beach with the girls







June 9-14, 2015 Blackfoot/Filer Dog Shows



May 30, 2015
Ballet Recitals

Tori and Calli had a great year in ballet and learned a lot! Tori was a doll and danced to Coppelia. Calli was Cotton Candy and danced to Mirlitons from Nutcracker. They both LOVE ballet and could see themselves doing it professionally.
Tori's ballet recital dress rehearsal
(sneak peak)
It was really fun....at the end of the piece big men came and carried the dolls off stage. We have a professional video coming in a few months.





May 23, 2015
Piano Recital

Abrie, Tori, Alex, Calli and Caleb each played two pieces at their spring piano recital ~ I have posted one of them. We are SO thankful the Lord has brought music to our family and home. The kids work VERY hard and are great students. We have been blessed with a wonderful piano teacher ~ Dave Tacher, who has taught the kids so much about music, expression and dedication. Each of the children play two instruments, besides piano (violin, viola, cello and flute.) Since piano is a solo instrument, it is nice for them to play two, and their other instrument they can play with on orchestra.
Abrie (age 16) plays Witches Dance by McDowell


Tori is VERY talented, whether it be in her piano, viola, voice, ballet, horseback riding, showing dogs, skiing... she always excels. But.... besides all her talents, she adores and loves all animals and is THE BEST big sister!



Alex (age 12) playing Storm Etude by Randal Hartsell



Calli (age 9) playing both pieces~
Scherzetto and The Wild Horseman by Shaumann




Caleb (age 7) plays The Crab and The Cantankerous Kangaroo



Caleb is my "Juice Boy"

Caleb and Kaeden are my "Juice Boys". They can juice a gallon at a time!! Now THAT is a lot of juice! With our size family, we need that much. We like to eat healthy and our family does A LOT of juicing of fresh greens and fruits. Fresh orange juice and apple juice with ginger in SO delicious! I also did a 20 day water fast in April which was a great detox. My mom, sister and Abrie bought this juicer (Omega vsj843) for my birthday. It is great!! For our Cresteds, we mix some of the juice/pulp into their raw meat/kibble for a healthy diet. What a wonderful present... we all LOVE it!
May 16-17
Musicians West Piano Competition
~ Lava Hot Springs

We had a fun weekend in Pocatello. My sister Heidi and her two children Dani and Andrew went with us to a piano competition at Idaho State University ~ Musician West Piano Competition. They all played beautifully!!! Abrie won 2nd place and Tori, Alex, Calli and Caleb all received an Honorable Mention. Cousin Andrew won 2nd place in his division. We camped over in the motorhome and the girls did ballet in the beautiful building that evening and NO ONE was there!
Then it was off to Lava Hot Springs for a day of R & R. Well, maybe not R & R as the older kids did a platform dive of 23'!! The also rode the slide the drops you 60 feet and 38 mph. Not for me... that's for sure. Kaeden and I will be "chickens" together.
Lava Hot Springs has a "Dog Day" in September, when you can take your dogs. I think we might have to come back with the Labs, our Cresteds would not like it.
May 10, 2015
Happy Mother's Day

to all the wonderful Mothers of not only kids, but 4 legged kids as well ~
I had a wonderful day putting in a new fence. Showing our Cresteds is a real challenge, as we have SO much dirt and LOTS of weeds, it is near impossible to keep them clean. I will be making this area as dirt free as possible. My super sweet kids cleaned LOTS of dishes, helped with fence holes, stacking fruit trees, plus LOTS of other chores. I have THE BEST kids in the whole wide world and am SO thankful!!!
Abrie, Tori and Alex learning to use power tools (skill saw, drill, saw zaw, etc) and Kaeden intently watching. The kids are making "Garden Boxes" for our vegetable garden. Hopefully we will have LOTS of yummies veggies from the garden this year.


May 5, 2015
Kaeden's 5th Birthday
He had fun swimming at Roystone Hot Springs, but he REALLY
wanted to stay in a motel for his birthday. That's my traveling boy!


Spring 2015
We all LOVE having puppies in the house again!!!
Puppies are THE BEST part of spring ~
~ Stunning Anna/Trouble puppies ~
Brody x Bella Puppies
Playing in the grass
Caleb and Kaeden LOVED this little restaurant they made, as Calli was their server and they could have their puppies will them while they ate!


April 29 - May 3, 2015
Salt Lake City Dog Show
We had a fun and exciting trip! It started out on Wednesday when we were packing the motorhome and Tori found the 1st rattlesnake of the season. We caught it and our first stop of the trip was to relocate him to a safe location.
The show went VERY well! We showed our 4 Cresteds ~ Ivy, Lola, Clea and Henri as well as our Lab Holly. All did VERY well and gained 8 total points toward Champion/Grand Champion AKC titles. We took an afternoon after showing and went to Utah Lake. The kids had fun playing in the water (rolling a 400 lb? log into the water to play on) and catching over 400 lady bugs for our garden!
Rattlesnake gets a short ride in our motorhome and rattles ALL the way!
Some of our dog show "Loot"... as we call it ~


Abrie, Alex, Tori and Calli showing Ivy, Clea, Henri and Lola
Look at all those Puffs in the ring... I LOVE it!!!


~ Comment at the show.... "Now THAT (Holly) is THE classic yellow lab" ~


Henri (our new boy) at 9 months and his first show ~ He did AMAZING!!!
The kids showing their Puffs~ What a lot of work with all this fluff...
but what a lot of fun!!!
The kids and I rolled this HUGE log from shore into the water,
so they could float and play on it ~ Tori keep saying " I know we can do it!"
Kaeden is my little "Vagabound"... as he LOVES to go on trips!!! We will just get home after a long trip and he keeps asking when we can go on another trip!
Lady Bugs and Camp fires ~


This log was HUGE! My guess 400+ lbs. After the first roll and seeing how far we had to roll it, I had doubts we could move it that far. And I usually do not have doubts. But Tori keep saying " I know we can." We probably rolled it 100', but we did it and they had fun floating/playing on it.


April 25, 2015
Abrie plays Mendelssohn Concerto with Meridian Symphony
What an EXCITING evening to hear Abrie playing with the symphony!!!


Abrie playing Concerto No. 1 in G Minor, Op. 25 Felix Mendelssohn
3rd movement, Presto- Molto Allegro Vivace
with the Meridian Symphony
Abrie is a joy to listen to, as she plays with SO much emotion and expression ~







April 2015


Brody LOVES a Big Stick..... the bigger the better!!!
~ The Labs LOVE their visit to the lake ~
~ Brody and Holly having fun at the lake ~
~ Holly likes to wait and steal the stick from Brody when he comes in ~
Now that is a FAT otter tail, Holly!


Trampoline Fun!!!

The kids use one of the dogs beds to bounce each other in the air.
I call it.... "The Flying Saucer"
They can really get little Kaeden high in the air and he LOVES it!


Spring 2015
Hikes and Picnics with our Cresteds and Labs

We are all LOVING the warm weather that spring has sprung! The dogs LOVE going on hikes and especially love the picnic part (Abrie's homemade apple pie). We miss our Tucker and Vienna who went to their new home this past week. We welcome our new Puff Henri to our family. He is such a sweet, sweet boy! We are looking forward to showing him this summer.
~ Our new Puff boy... Aja's Dance with me Henry "Henri "
by CH. De La Mahafu's Chicho-Chagall De Aja x Chinese Line Aja's ET Cetera (both Swedish imports) at 9 months old ~
His half sister was #1 Chinese Crested 2014/#8 Toy/Best of Breed Westminster 2015
Spring hike with the Cresteds and Labs.....
and yes... some of the kids hike 2+ miles barefoot; they have tough feet!
March 31, 2015
Happy 16th Birthday to our sweet, sweet, dear Abrie!!!





March 1, 2015
"Yep.... Horses Can Jump!!!"

Kids had a fun day with the horses... jumping, jumping
and more jumping and Kaeden even got a ride!
And
Caleb's 7th Birthday!!!!
Boise Tuesday Musical Piano Festival

Five out of six Church kids attending Boise Tuesday Musical Piano Festival
and five out of five recieved Superior rating!!! Way to work hard!!! Kaeden will be six out of six soon! It was a busy day... Alex also had his first Cello Concert with the Intermediate Honor Orchestra.
Update
March 21, 2015 Winning Superior Rating at BTM, Abrie, Tori and Alex got to compete for piano scholarships.
They all won scholarships with Abrie winning the highest amount she could be awarded~ $800 is not bad for playing a few songs ( I should mention, Abrie plays piano about 4 hours a day and when you add up all the kids time practicing piano each day... it comes to about 9 hours of piano playing a day)!!!



Jan/Feb 2015 Abrie competes and wins Concerto Competition for Meridian Symphony and BPYO (Boise Philharmonic Youth Orchestra) performing
Concerto in G minor mvt.III by Mendelssohn ~

We are all SO excited to hear Abrie perform as a featured soloist
with the symphonies this April and next fall!!


Sept/Oct 2014
Dog Shows in Idaho and Salt Lake City
~ and ~
Tori and Calli at Ballet Lessons

We had a couple 4 day dog shows in Boise, Idaho and Salt Lake City this fall. It was a lot of fun and we have a new Champion in the family ~ Ivy ~ !!! Lola only needed one major and she too will be an AKC Champion like her sis.
The little ones REALLY found out about salt water and that you CANNOT sink... but it REALLY burns when it gets in your eyes and nose!
Tori and Calli got to perform in the Nutcracker this year with Ballet Idaho!! They had a lot of fun.... Tori played one of the party girls in the Party Scene and Calli was a little mouse.


October 31, 2014
Trick-or-Treating on Horseback

It is an annual traditional around here that the kids go Trick-or-Treating on their horses/pony. It is always a lot of fun!! This year some people remembered them and had horse treats for the horses, which they LOVED!!! Mini stuck her head right in the bucket. At one house the lady's birthday is on Halloween and her husband's birthday on Christmas. It was SO sweet, the kids all sang "Happy Birthday to her". I like that they get more riding in and not as much candy collecting/eating.


~ Halloween concluded with carving pumpkins contest
and a Halloween dance/play at Grandma's house ~



~ Lots of wonderful memories with our furry
little friends ~
Some Favorite Pictures for 2014





Aug 2, 2014 Caleb Learns to Ride

Caleb (age 6) learns to ride! We took a horse ride to Grandma's house (3 miles each way) and Caleb learns to post. He now LOVES to trot! Lucy is such a good girl for the little ones. I only have one little boy left to learn (Kaeden-4) and he is well on his way. He has ridden a few times, but hasn't got the idea of posting down. He has fun though.



July 14-28, 2014 Cheyenne Fun

We visited my sister and her family in Cheyenne for two weeks. The kids LOVE to go see their cousins, Shane, Breanna and Elesha. They also have horses and live on 40 acres, so we feel right at home. We rode in the Cheyenne Frontier Days Parade, found a new horse for cousin Alesha, did LOTS of horse riding and went camping. Went hiking to a hidden waterfall and the kids caught an injured bird while camping. He was brought to a wild life animal vet/rescue. He had a fishing hook caught in his throat.



July 4, 2014 4 Wheeler Ride to Placerville

We rode the 4 wheelers from our house to Placerville, about a 80 mile round trip ride. We found a cool pond to take a dip in and Daddy flagged down a Swans truck for ice cream!!! They only had large quantities, but no one complained about eating too much ice cream on a HOT day! We found a lot of neat things in that old ghost town.





June 28, 2014 Kids Ride to Smith's Ferry/Tripod Lake

Abrie, Tori, Alex and Calli riding their horses/pony to Smith's Ferry/Tripod Lake about a 30 mile ride~ When we got to the lake we had fun playing with the Labs in the water. Calli did GREAT on her pony Mini. This was her 2nd 30 mile ride on her pony.






June 27, 2014 Round Up


Abrie, Tori and Alex ride their horses and help our neighbor round up his cows.



June 18, 2014 New Boat

I don't know who loves the boat more....the kids or the Labs!!! We sure do enjoy getting out of the heat and into the water. The kids LOVE to be pulled on the tube! And Dad can still do an AMAZING back flip!





June 12-15, 2014 Filer/Blackfoot Dog Shows


We went to the Filer/Blackfoot Dog shows a 6 day show. We also visited Shoshone Ice Caves, Craters of the Moon National Park, Arco, a great swimming lake in Blackfoot and the best part of our trip....visiting Henley one of Clea's puppies from her first litter.
One of our adored puppies... Henley! It was the ABSOLUTE highlight of our trip to see him again!
He is such a BEAUTIFUL sweet,sweet boy!





May 17-18, 2014 Musicians West Piano Competition
and Lava Hot Springs

Tori and Calli both won 1st place in their divisions at Musicians West Piano Competition in Pocatello at Idaho State University. We then headed off to Lava Hot Springs for a day of water fun! It was a full house, or should I say full motor home with 7 children (cousin Andrew came), and 6 dogs (4 Cresteds and 2 Lab puppies) and 2 orphaned kitties we just found. The more the merrier...as I always say.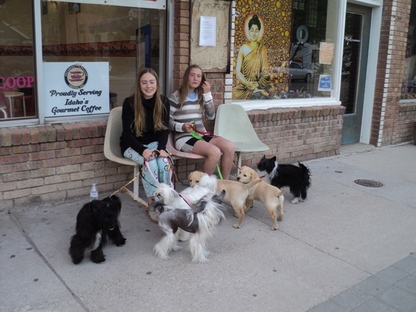 ---





May 12, 2014 Found 2 Wild Kittens

Alex found these two wild kittens in our Boulders as he was letting his snake go. It didn't take but two days and they were as tame as could be. The LOVE sleeping on the kids beds. We keep them for a couple months until we could find them a wonderful home. We sure will miss those cute little fur balls.


May 10-12, 2014 Finding LOTS of snakes!!!
The kids found these three snakes within 2 days of each other this past Spring. We also found 3 rattlesnakes, but will not show you those. We keep them for a day and then let them go (not the rattlesnakes.) The kids must have a little of their Grandpa in them... as when I was a kid, my dad did NOT want his kids and especially his girls to be scared of snakes. He would pay us a quarter to touch a snake and a dollar to hold one. Amazingly enough...it skipped a generation, as my kids LOVE snakes! I don't mind them.... but I don't want to jump out of the car to go catch one either. And I don't have to pay them any money either!


Striving for THE BEST.... BoulderCrest!


Copyright protected