~ Legacy Powderpuffs


at BoulderCrest ~

~ Porky, Ivy and Lola as puppies ~
Chinese Crested Powderpuffs


Legacy Powderuffs at BoulderCrest
is an exclusive breeder of TOP show quality Chinese Crested Powderpuffs
~
We strive to breed THE BEST Puffs with THE BEST Puffs
The Kids and their Puffs
​Belle, Paris, Ivy and Lola
April 2017
​
​
Ivy x Winston Litter Born Oct 2, 2018
Available ~ May 2019
Our very handsome Ziggy boy is looking for his new wonderful forever family. He is very well socialized with all our animals, kids and a VERY busy, loud house with lots happening. He is neutered and crate/house trained (when let outside regularly). We are looking for a family where someone will be home during the day to give him lots of love and attention. Having another k9 friend for him would be a plus, as he loves to play.
Inquiries Invited from loving forever families


Paris x Winston
Available May 2019
"France" was Pari's single baby born on Jan 12, 2019
France is the center of attention around our home. He is loved by all! He might not have any brothers or sisters to play with, but his mom, dad, grandma, 1/2 sisters and brothers and aunts ALL adore this little guy. They LOVE to play with him! He is very quiet when held/snuggled. He is also a good boy when taking a bath or clipping his face/putting his ears up. He is doing amazing on his housetraining and is crate trained. He sleeps quietly through the night from about 10 pm - 7 am. We are looking for a VERY special family for him who will be home during the day.
Inquiries Invited

Phoebe
Available ~ July 2019
The very sweetest girl "Phoebe" is looking for her forever family. She was born on 1/10/18 from Lola x Winston. We got her back through absolutely no fault of her own. Words can't describe what an absolute doll she is. She rubs between my legs for affection (like a cat). She sleeps on the bed, is house trained, crate trained and LOVES to eat! She is spayed and LOVES to carry sticks in her mouth. She also LOVES to play in the mud puddles and thinks the most fun thing to do... is chase the water from the hose. If you move it around so she can't get it, she will bark in excitement. She is a super fun girl! Her ears where not continually taped as a puppy, so she has drop ears. She adores kids and is very well socialized. We are looking for a family where she will be the center of attention and where someone is home all day.
If you feel you are the right family for Phoebe, please email about your family, where you live and anything else you would like me to know.


​July 2019
Looking for their new amazing forever families are Nala and Simba. They were born on May 14. They are VERY, VERY well socialized and crate trained/sleeping through the night. They also have a little early potty training and are doing great! They are both the very sweetest cuddle monsters. Their parents are Ivy x Winston, both fully health tested and AKC Champion and AKC Grand Champion. They will loose their color as they age and will be pure white/creme color. They are both very friendly and love to play outside. They even play with our Lab puppies. It is SO adorable!


​~ ~ ~
​


Ivy adores her babies ~



​Sire of Litter​
AKC CH Christall-My Angel No Worries Be Happy at Legacy
​ "Winston"

​Best of Breed Winner


OFA Patella Normal # CHC-EYE 184/21M-VPI
OFA PLL/PRA Clear/Normal # CHC-PA655/21M/P-PI
Paw Print Genetics Testings #46268
Canine Multiple System Degeneration WT/WTNormal (clear)
Degenerative MyelopathyWT/WTNormal (clear)
Progressive Retinal Atrophy, Rod-Cone Dysplasia 3WT/WTNormal (clear)
DNA # V813978/TS271004 - yearly Eye Cerf
No none allergies or any other health related issues

​
Winston with his VERY best friend Elsa. They were playmates as puppies and are still best buddies.



GCH CH Faerydreamer's Dancing Through Life Del Rey
"Fiero"
Best of Breed at National Chinese Crested Specialty Show
Westminster Award of Merit
Grandsire of Litter



​
The matriarch to our breeding program
Am/Int CH Jewel's Serious Business at BoulderCrest
​ "Clea"
Grand Champion pointed ~ Best of Breed winner ~ International Champion

Clea's pedigree has a DOM(Dam of Merit), a SOM(Sire of Merit) and ALL of the other 28 dogs in her pedigree, 4 generations back are either American Champions or English Champions!
~
It took over two years to find our ideal Crested to start our breeding program, but she has been
well worth the wait! She has far exceeded our expectations on what she can produce. Clea has her AKC American Championship, is Grand Champion pointed and Best of Breed winner. All of this accomplished by her adoring owner Tori at 10 years old~
But far beyond her

accomplishments

, she is our ADORED family member.
Tori couldn't image her life without her sweet, sweet snuggle bug Clea and neither could we.


Primary Retinal Atrophy PRCD-PRA, PLL ~ Clear/Normal by parentage
Eye Cerf normal July 2013/July 2015
Normal/full Dentition
11" ~ 10 lbs
Clea & Tori- Best Friends!!!
Tori at age 10 showed Clea to her
AKC American Championship!
Clea winning her IABCA International Championship
July 2015



AKC Grand Champion
​Am/Int CH Ivy Talk O' The Town at BoulderCrest
"Ivy"
Multiple Best of Breed Winner against Specials ~ International Champion
AKC Grand Champion



Primary Retinal Atrophy PRCD-PRA and Primary Lens Luxation (PLL)~
Optigen Clear/normal # 15-1492 2/24/15
Eye Cerf Normal~ Jan 2015 BAER Test ~ Pending
Full/Normal dentition
12" ~ 11 lbs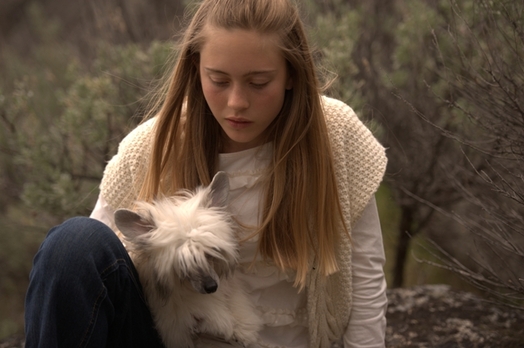 ---
Now that... is A LOT of fluff on a Puff!!!
Ivy Best of Breed

Ivy winning her IABCA International Championship
July 2015








Am/Int CH Lola is a Showgirl for BoulderCrest
"Lola"




Calli said to me one day " I can give Lola something every day..."
I said "What?" She said, "Love!"
A couple of fun things our smart little Lola can do is "jump" in your arms
when you say "Lola... Jump" and "speak" when you say "speak". She can also twirl and dance for a yummy piece of cheese (her favorite).


~ AKC/International Champion ~
~ Shown by Tori Church ~


Lola winning her IABCA International Championship
Shown by Calli Church ~ July 2015



Lola winning her second Major Win to finish her AKC Championship....
Lola had four puppies (Belle, Lolita aka Dolly, Ella and Vinnie) in her tummy
​at the time and delivered 10 days later!
Expertly handled by Alex Church

​
Primary Retinal Atrophy PRCD-PRA and Primary Lens Luxation (PLL)~
Optigen # 15-1491 Clear/Normal 2/24/15
DNA V808558/TS134080
Eye Cerf Normal ~ Jan 2015 BAER Test ~ Pending
Full/Normal dentition
12" ~ 12 lbs


​Ch Legacy's We'll Always Have Paris At BoulderCrest
"Paris"
​(Clea x Winston)
Tori now have two Puff babies.... Clea and her daughter Paris. Tori had ballet, so big sis Abrie got to show her at most of the shows. She finished exceptionally fast.... in the puppy class!
Paris has a great personality...fun and loving. She is a wonderful additional to our family.
Tori shows Paris for a Best of Breed/Major Win/New Champion!!!



Paris is a better retriever then some of our Labs!!!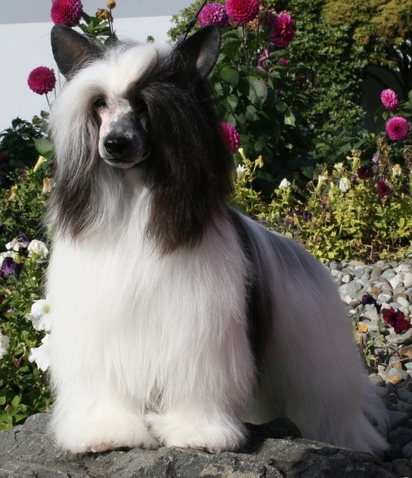 ---
AKC CH. Ko's Infineon Raceway "Fineon"
(owned by Carol Wasden/ID)
Grand Champion Pointed ~ Multiple Best of Breed Winner





AKC CH Aja's Dance With Me Henry "Henri"
Winning Best of Breed over Specials and International Championship/ July 2015
Sire/Dam are Swedish Imports ~ 1/2 sister "Holly" #1 Crested 2014
and Westminster Best of Breed 2015


Pictured at just over 1 year old

Tested clear for PRA, PLL
Full normal dentition
Normal patellas/DNA V810727/TS223383



Our ADORED past puppies!!!
~ They have all gone to their new loving homes,
but will ALWAYS and FOREVER be in our hearts ~


Contract required on all our adored puppies, to help ensure
they find THE BEST forever homes!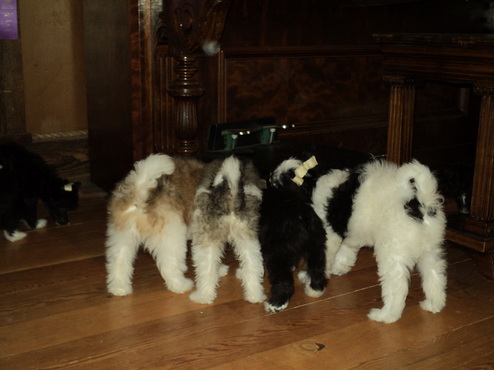 ---


~ Some of our fun Crested videos ~


Our very first litter of Crested puppies... Ivy, Lola, Henley, Tux, Lucky and Porky.
​
Int Ch Aja's Dance With Me Henry
He LOVES to play and LOVES his stick!!!


~ Darcy, Chase, Beau and Bond taking a nice rest after a hard day of play and a good bath ~
​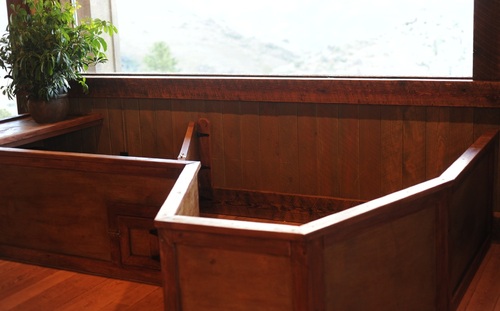 ---
Legacy Powderpuffs at Boulders
~
Breeders of TOP show quality Chinese Crested Powderpuffs
Striving for THE BEST.... BoulderCrest!


Copyright protected